Press Release Cambrian News 19th August 2010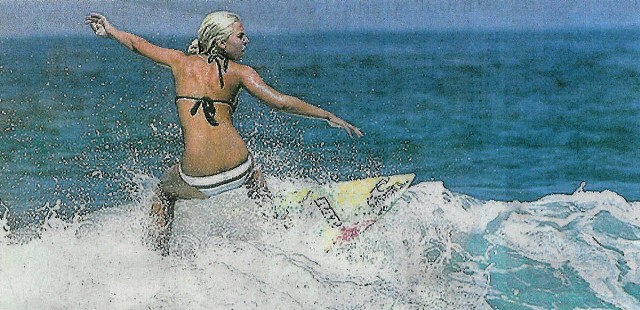 Will Borth become a mecca for surfers?
by Antony Gedge

This email address is being protected from spambots. You need JavaScript enabled to view it.
Thursday 19th August 2010
MULTI-MILLION pound plans for new coastal defences at Borth are the most important development in the village for decades, community councillors have said.
And after backing the plan for the first phase of work to include new rock groynes and break waters, as well as future plans for an off-shore artificial reef, members of Ceredigion's planning committee said the scheme was vital to protect the village.
It is also hoped the new artificial reef will turn Borth into a tourist mecca for surfers.
The application will be approved once all consultation responses and assessments have been, completed after councillors dismissed objections claiming the works could damage protected conservation areas nearby and would restrict the public from using the beach.
There were also complaints that replacing timber groynes with rock ones would be less attractive.
Councillors said they were happy that the scheme wouldn't lead to damage to a nearby Site of Special Scientific Interest or a Special Area of Conservation.
Borth community councillors Jackie Lawrence and Anthony Morris said the plan was a huge step forward for Borth. Cllr Morris said: "This is the most important planning application that's gone before the community council at Borth for two or three generations.
"You will end a period of uncertainty. Many people are concerned about the current state of the sea defences and we've reached the point where we need, if not
this scheme, then major re­pairs, but hopefully we'll get this scheme."
And ClIr Lawrence, the chair of the community council, said she had joined the council 15 years ago to push ahead new sea defences and was glad to finally see some progress.
Planning Officer John Evans said although a report into the works admitted that tourism would be hit by the works at the beach, It said the long-term benefits would outweigh the short-term problems.
A planning report said: "The works would cause temporary disruption to recreational and 'tourist activities: Many impacts' would be minimised by sensitive working methods.
"In the longer term the scheme would protect the local community and tourism-related activities from flooding, improve the visual appearance of the beach and has the potential to attract more visitors to Borth."
Cllr Haydn Richards said the council could not afford to stall. He said: "We must respond to the situation where the sea is very strong and react to situations where floods do occur. We have to face up to that and go ahead with projects like this. We have to support this ap­plication. It's a costly process, but would be more costly if we lost property or residents."